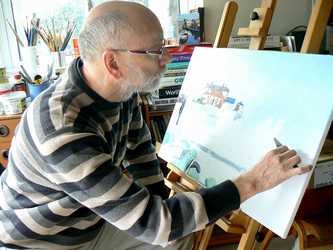 I was born in Skipton, North Yorkshire, in 1947 and graduated from Nottingham University in 1969. I have had no formal artistic training but time spent in Aix-en-Provence as a student introduced me to the works of Cezanne as I traced his footsteps along the Chemin de Bibemus towards the Mont St Victoire. Cezanne has remained an influence as has the French painter Bernard Cathelin.
I have been painting for the past 40 years and have exhibited in the UK and in France.
In 1974 I won the Trophy for the Best Abstract at Derby Arts Festival Exhibition and in 2005 a prize at the Ferens Winter Exhibition in Hull.
I am a member of East Riding Artists.
I work in oils, using a painting knife, mainly on landscapes which are inspired by my native Yorkshire or by my travels, especially in France and Japan. I paint in a loose impressionistic style on canvases which range from 16" by 12" to 40" by 30".
Subjects include the fishing ports of Brittany to the peaks of the Pyrenees, the Lake District and Staithes to Japan's Mount Fuji.
I am also a keen wildlife photographer and shots taken in the field often provide a stimulus for paintings of birds in a similarly impressionistic style.